Spongebob: the final moments
At times like this, words are not enough. Below are the photos showing Spongebob's final moments with us. The end came quickly and we like to think he suffered no pain, although I did see Breezy club him with a toilet roll moments before his demise.
Propped up by pillows and smiling through the pain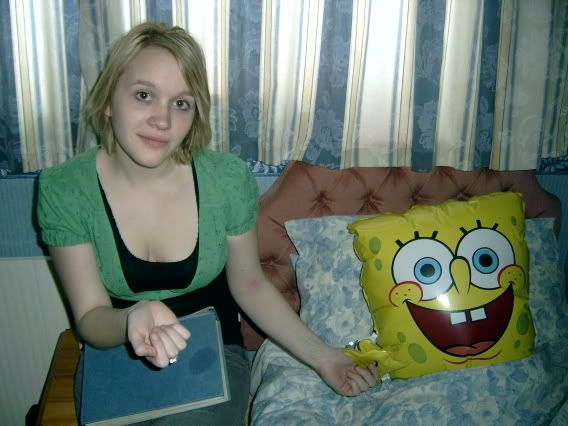 Breezy reads him his last rites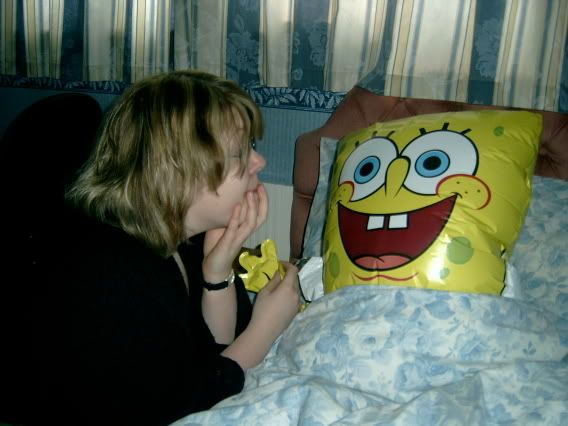 Me and Spongey B talking about the good times
And then he was gone...
At times like these, it's important to feel that you are not alone and we know that Spongey B touched many lives while he was with us. With this in mind, please feel free to leave any messages of condolance in the box below.

Donations would be accepted gratefully too. The balloon man is back in Uxbridge on Friday. I need a replacement.
Posted at 10:06 am by
Carrot
Caroline


May 3, 2006 03:18 PM PDT



I didn't chuck his corpse in the bin. As if I'd ever do that to Spongey B!

No, Breezy did it while I was out and then by the time I got back the bin men had been.

She hated that balloon and make no mistake.

xxx
Gareth


May 3, 2006 12:28 PM PDT



It's hard to believe just how many lives he managed to touch in such a short lifetime. May he rest in piece.


x


P.S. I hope you didn't just chuck his corpse in the bin.